from 9 am to 3.30 pm
65 km by step
4 hours and a half or so
step difference of the stage : +500 m
track types
Légendes des routes
env. 17 km/h
Bordeaux's Big Five, 6 stage cycling trip  !
En savoir plus
Price between 1500 and 1800 euros per person*
Cycling trip in the region of Bordeaux !
* according to dates and number of people
* 6 people minimum
En savoir plus
This amazing cycling adventure takes you to a wonderful touristic and historical heritage spots. Discover the whole vineyard of Bordeaux, getting very close to it, and get the opportunity to smell, touch and taste it. This cycling trip on the lands of Montaigne, Montesquieu and Mauriac is a tribute to epicureanism ! Cycle through Sauternes, Graves, Entre-deux-mers, Rive right bank of Saint Emilion the temple of Merlot, Côtes de Bourg and Blaye and finish with Médoc and Haut Médoc. As a cherry on the cake, we end the trip cycling alongside the wild beaches crossing endless pinewoods until we reach the famous sandhill of Pyla. From cycling paths to secundary roads, this fantastic trip take you to 5 of the most famous wine estates, Yquem, Pétrus, Latour, Lafitte and Cheval Blanc
3 and 4 stars accomodation
This cycling trip that mixes pleasure and teaching approach was created in a way that you embrace the whole vineyard of Bordeaux, its soils, grape varieties, the different ways of pruning the vines in order to understand and appreciate the uniqueness and excellence of its wines.
2, 3 or 4 stars accomodation
most of the time accomodation are wine estates to eable wine tasting and cellar visits. They are most of the time equipped with swiming pool so  that you can relax after the cycling stage.
Dinner is served at the wine estate where we stay for the night.  Wines are included (1 bottle for 3 persons)
Visits of cellar, wine estates, museum are included in the price.
the bike is given to you. It can be a normal beike or an electric bike. Size depends on availability when you book.
Support van carrying your luggages.
English speaking guide with a background in wine studies and cycling.
Please note that this description is only an exemple and may change according to dates and accomodation availability.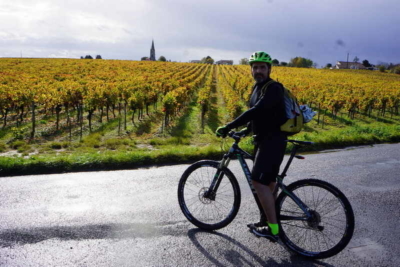 Stage 1 : Bazas-Quinsac 70 km
It is in the picturesque village of Bazas where we start cycling. After a few kilometers, we follow this nice curvy river, le Cerons, and cycle by villages such as Sauternes, Barsac and Langon. The king of the day is the semillon, this grape variety  used for the Château d'Yquem. We leave the Sauternes areas and its sweet wines, to head to la Brède and its famous castle where Montesquieu grew up !
Stage 2 : Quinsac-Saint-Emilion 55 km
This stage takes us to the place called « entre-deux-mers » famous for its beauty and the 2 milleniums of history. It is without any doubt one of the largest wine regions of the world with its countless Appellations. Plateau wines, hillside wines, red wines, dry white wines, sweet wines, rosé… all the types of wine from Bordeaux can be found in « entre-deux-mers ».This stage is a bit hilly and goes through picturesque villages such as La Sauve, Créon or Génissac. As we cross the Dordogne river we head to Saint Emilion, the temple of merlot !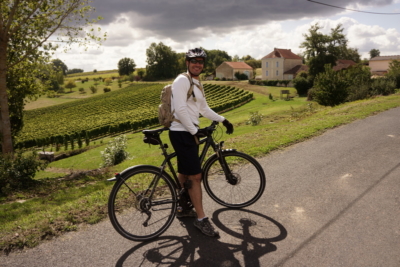 Stage 3 : Saint-Emilion-Blaye 60 km
Finally we reach the right riverside ! This word  (rive droite) for the locals means 2 different thing : it can be le right part of the Dordogne river where you can find vineyards of Libournais with famous appelations such as Pomerol or Saint Emilion. It can also refers to the meeting point of the Garonne and the Dordogne rivers where you can find vineryards of Côtes de Bourg and Côtes de Blaye. This stage which follows mainly cycling paths has wonderful landscapes and views. As we reach Bourgs it gets hilly and from the top we can see the other side of the river, Medoc and Haut Medoc.
Stage 4 : Lamarque-Soulac 70 km
After a short boat transfer to the other riverside, we are back on the bikes for a wonderful stage. After a few kilometers we are surrounded by vineyerds and very famous ones : Pauillac, Saint-Julien, Saint-Estèphe …This is where the grands crus are based, Latour, Lafitte, Mouton Rothschild …From wine estate to another wine estate we can worship the architecture of the castles with their « medocaine » style. The soil there changes as well from one wine estate to another making the wines tasting  different. As we head to the West vineyards are less and less present and we can already smell the ocean… Soulac, this nice frontside village will be hosting us for the night !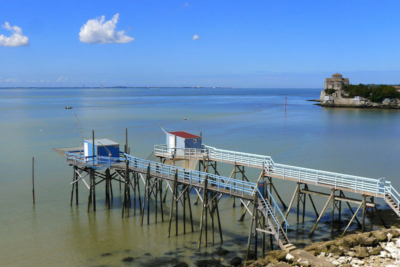 Stage 5 : Soulac-Lacanau 75 km
We start this stage in a wonderful spot ! Surrounded by sandhills and pinwoods we follow the Velodyssée, this cycling path boarding the ocean. The few tourists we see with their surfboards reminds us that the ocean is very close. According to the weather and the sun, we have the lunch either on the beach or in the pinwood in a shadow place. A short break to put our feet in the water and we are back on the bikes to reach Lacanau, a famous surfing sea resort !
Stage 6 : Lacanau-Pyla : 60 km
This last stage will be the cherry on the cake with the finish at the Pyla sandhill ! But before we arrive there, we have to cross this endless pinwood. Once we arrived at Cap Ferret, we get off the bike and take the boat for a 15 minutes cross to reach Arcachon. From there we still have 12 km to be able to see to fanstastic treasure, the sandhill of Pyla ! Again we get off the bike one more time and walk to the top of the famous sandhill and from there we contemplate the amzing view over Cap Ferret and the surrounding. Now everytime you have the privilege of opening a bottle of Bordeaux for sure you will remember all these vineyerds that we cycled through, but then you will be able to enjoy the wine even more …