from 9 am to 3.30 pm
55 km by step
4 hours and a half or so

step difference of the stage : sup à 500 m
track types
Légendes
env. 17 km/h
Get to know Sarthe in a cycling  week-end !
This epicurean week end is an immersion into the heart of Sarthe, famous for its historical heritage, its forets, and picturesque villages. After a short transfer from the train station to Sillé-le-Guillaume, we get on the bikes and follow the cycling paths across beautiful landscapes. Thanks to the forest paths, secundary roads, we get deep inside Sarthe and its wonders. As we leave the forest of Sillé-le-Guillaume, we head to Saint-Cénéri-le-Gérei, a village at the border between, Sarthe and Orne. This is where we stop for the night, a nice village worshiped by artists as they find their inspiration !
Back on our bikes, we cycle some kilometers until we reach the Kayak boarding spot and start paddling on the Sarthe river almost 15 km until we reach Fresnay-sur-Sarthe, a picturesque village with its castle. After a lunch break we cycle on the V44 a cycling road that will take us to Beaumont-sur-Sarthe. At that time we will be finished wih cycling, a short transfer with the van will take us to the train station of Le Mans.
2,3 or 4 stars accomodation.
This tour was created in a way to get deep inside the Sarthe and get to know its wonders, people and cultural heritage. The hilly landscapes of the Northern Sarthe suggest you to  choose an electric bike if you are not very sporty.
2,3,4 stars accomodation.
Dinner is served at the accomodation. Wines are included (1 bottle for 3 people)
Bike is given to you. Size depends on the bikes available  when you book. For those who prefer, you can bring your own bike over as long as you make sure the bike will go through the off road paths
Support van carrying your luggages
Shuttle transfer fron the train station  of Le Mans.
English speaking guide with a background and a diploma in cycling
Please note that this description is only an exemple and can change according to the availability of the accomodations, dates and number of people…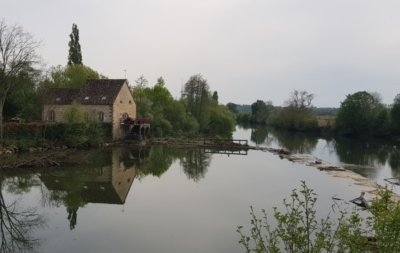 Stage 1 : Ségri-Saint-Cénéri-le Gérei 60km
We start cycling from this nice little village of Ségri. After a few kilometers we get into the forest of Sillé and we cross it for 10 km or so until we catch the GR36 a hiking and cycling path that goes in the direction of Saint Georges and Saint Paul le Gauthier. As we come close to Saint-Léonard-des-Bois, the landscape is getting more and more hilly making the countryside look completely different. The finish of the stage is astonishing as we get closer and closer to Saint-Cénéri. The view of the  Sarthe river there is just worth the efforts on the bike !
Stage 2 : Saint-Cénéri-le Gérei- Beaumont-sur-Sarthe 55 km
During this second stage we switch the bikes for kayaks for some hours. For those who prefer, it is possible to do this stage only cycling or we can combine it with some kayaking for 10 km or so until we reach Fresnay-sur Sarthe (if the weather conditions allow it, in summer the level of water is sometimes very low…). After a nice pique-nique in a beautiful spot, we start cycling again for 20 km approximately until we arrive at Beaumont-sur Sarthe. From there we take a shuttle to the train station of Le Mans.