from 9 am to 3.30 pm
65 km by step
4 hours and a half or so
step difference of the stage : ≤700 m
track types
Légendes detail
env. 17 km/h
5 stage cycling tour in Burgundy
Our cycling tour in Burgundy, registered UNESCO heritage site for its « climats », it gastronomy and its ancestral traditions give the opportunity to any nature lover to experience a unique adventure full of emotions crossing the vinyerds of Côtes de Nuit and Côtes de Beaune.
Delight your taste buds !
At the end of every stage, a wine tasting or a visit to a cellar is organized.
This bike tour will take you to prestigious wine estates such and appellations such as  Nuits Saint Georges, Romanée Conti, Clos de Vougeot, Volnay, Pommard, Montrachet, Puligny…
Accomodation (2 persons per room)
Full board accomodation (breakfast and dinner) lunch is served outside most of the time it is a picnic
Wines are included for dinner ( 1 bottle for 3 persons)
AV normal bike or an electric bike is given to you for the trip
Transport of your luggages
English speaking guide with a background and diploma in wine studies and cycling
Visits of wine estates, castles and cellars
Support van should you required it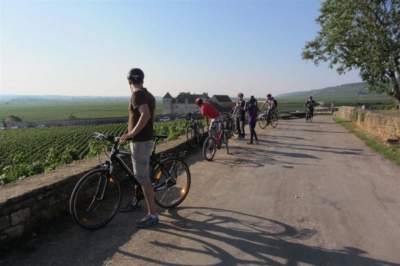 Stage 1 FIXIN BEAUNE 50 km (Côte de Nuits)
Get on your bike and take the vineyards of Côtes de Nuit ! In the middle of vineyards, sometimes you will find a mutt, or a traditional bread owen witnessing that the ancestral traditions are always present in Burgundy. Famous all over the world for its prestgious wines, Côte de Nuit, nicknamed  « the Champs Elysée of Burgundy » has other secrets waiting for you  … On your bike and go for them !
Stage 2 Beaune-Buxy 55 km (Les Grands Crus)
Known for its great vintages specially the white wines, the Côte de Beaune has a huge cultural heritage as well ! During this stage you will have the pleasure to see 4 castles between Hospices de Beaune and the medieval city of Nolay. Youwill cycle through world famous vineyards such as Puligny, Montrachet or Meurault. We leave the Côte d'Or to enter into the « Côte chalonnaise famous for the Mercurey ! We stay at Buxy for the night !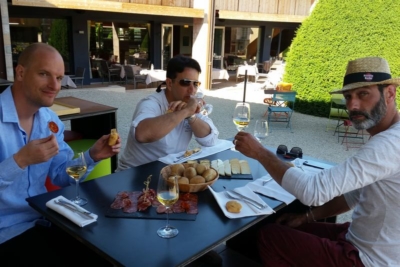 Stage 3 Buxy-La Rochepot 50 km
We bike to the North West direction and cross big names of Burgudy such as Santenay, a long time ago known for its thermal waters, and Nolay. We finish the stage with the visit of Rochepot one of the flagships of the history of Burgundy
Stage 4 : La Rochepot Chailly sur Armaçon 55 km
During this stage we leave the vineyards, to discover other wonders of Burgudy : its valleys and rivers like the one of Ouche which runs through picturesque villages, medieval castles and abbeys. After climbing the last hill of the stage, we stay at the castle of Chailly !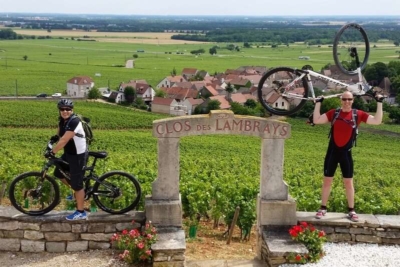 Stage 5 Chailly sur Armaçon-Dijon 55 km
This stage is without no doubt the flattest and the easiest one as we follow the canal of Ouch which was specially fitted out for cyclists and hikers ! During the 55 km we cycle through several locks and see numerous barges for tourists using the same canal that was a long time ago used to transport the barrils of wine to Northern Europe.